By Adina Campbell
Community affairs correspondent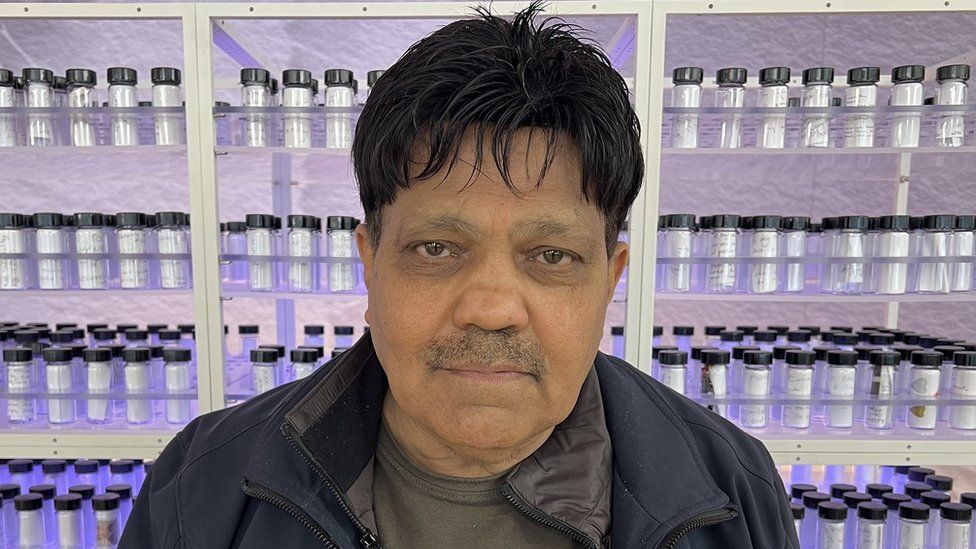 Some African and Asian patients who were given contaminated blood transfusions in the 1970s and 80s feel they have been "let down" compared with people who were born in the UK, an inquiry has heard.
The infected blood inquiry has heard evidence about three witnesses from Kenya and Pakistan.
All were told they probably contracted hepatitis C outside the UK.
One felt they had been "treated differently to other communities".
During the 70s and 80s an estimated 26,800 NHS patients who needed blood transfusions after surgery, childbirth or miscarriages were infected with hepatitis C. This is according to findings published by the public inquiry into the scandal, which has been described as the worst treatment disaster in the NHS.
'Let down'
Waqar Ahmad came to the UK as a teenager from Pakistan in the 1970s.
He told the inquiry in central London that he was given a blood transfusion in Newcastle upon Tyne in 1988 after having a bladder stone removed, but found out in the late 1990s he had hepatitis C.
The father of four says NHS staff then told him to keep his clothes separate from his family.
"At one point they said if you see any blood on your clothes, you must take them out and burn them or throw them away," he said.
Mr Ahmad broke down in tears while giving evidence, adding: "Within the family it was very hard and my wife didn't want me to go near the kids."
When he applied for financial support from the infected blood support scheme, the Skipton Fund, he was told there was not enough evidence that he had been given a blood transfusion in the UK.
Mr Ahmad disputes a medical document shown to the inquiry which states his infection occurred before he came to the UK, and that it was not clear how he was infected.
"It is very annoying when they try to blame someone else," he said.
"We've been treated differently to other communities. We've been let down."
Samantha May, from the charity the Hepatitis C Trust, says she has seen a trend in black, Asian and other ethnic minority victims of the contaminated blood scandal facing an "additional set of barriers" to white victims.
"Many of them are reluctant to engage with medical professionals and there's a lot of fear and mistrust," she told the BBC after the hearing.
"It's very difficult to get medical records from the 1970s, and assumptions are made about the countries they're from."
Regina Alleys Cheptaniu, 76, who is originally from Kenya but moved to the UK in the early 1970s, was another witness to give evidence on Friday.
She says she was given a blood transfusion in England in 1973 after the birth of her third child, and later caught hepatitis C.
But she was refused financial help from the infected blood support scheme, which said she was more likely to have been infected outside the UK.
"It wasn't true," she told the inquiry.
"My body is completely different from the time I came to this country before I had my daughter."
Ms Cheptaniu added that having hepatitis C "makes me feel lonely", and she worries that people "will think I'm dirty".
"I worry about it and I don't talk about it," she says.
The inquiry also heard from Ghufrana Qureshi, who said her mother was infected with hepatitis C after a blood transfusion in West Yorkshire following a miscarriage in the 1970s.
Their family also had their application for financial help refused. They were told there was no evidence of a blood transfusion and that Pakistan, the country she was born in, had a 90% prevalence of hepatitis C, the inquiry heard.
"I feel she wasn't believed," said Ms Qureshi.
"Would it have been the same if she was a white British person? Her comments weren't taken on board."
Ms Qureshi added that her mother missed out on help and support after her hepatitis C diagnosis "because of the language barrier".
Closing the hearing on Friday, inquiry lead Sir Brian Wagstaff said it was important that people came forward with their experiences - especially those who feel stigmatised.
The public inquiry into the infected blood scandal has been taking evidence since 2019 and is expected to publish its final report early next year.