By Yolande Knell
BBC News, Jerusalem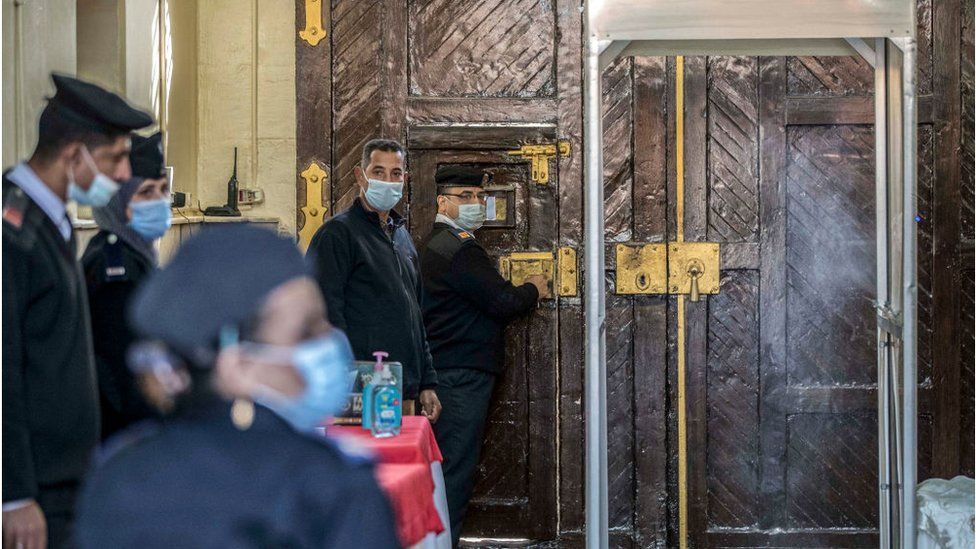 Egyptian human rights groups are calling for their country to open civic space and free political prisoners before hosting the COP27 summit.
It follows a report from Amnesty International which said Egypt was in the throes of a "human rights crisis".
Human Rights Watch (HRW) has said Egypt has severely curtailed the work of environmental groups. Officials in Cairo said the report was "misleading".
The UN Climate Change Conference takes place in Sharm el-Sheikh in November.
More than 100 international non-governmental organisation (NGOs) have already signed a petition organised by the Egyptian Human Rights Coalition, which consists of 12 groups.
"We emphasise that effective climate action is not possible without open civic space," a petition launched by the coalition says. "As host of COP27, Egypt risks compromising the success of the summit if it does not urgently address ongoing arbitrary restrictions on civil society.
"Moreover, we stress the importance of the right to freedom of expression and independent reporting to foster efforts to address the climate crisis."
In a joint statement in July, three dozen groups expressed concern that Egypt would largely maintain its prohibition on protests during the conference aimed at slowing climate change.
Under Egypt's President Abdul Fattah al-Sissi, there has been a widespread crackdown on dissent. Rights groups estimate the country has had as many as 60,000 political prisoners, many detained without trial.
They say that activists are routinely intimidated and that new laws make it practically impossible for many civil society groups to function.
"You will have activists from everywhere in the world coming to COP, but Egyptian activists are either blocked from going or they're in jail," a leading human rights campaigner in Cairo told the BBC, asking not to be named for fear of reprisal.
"Basically, nobody is safe in Egypt," the campaigner said.
The Egyptian authorities says they hope to use their presidency of COP27 to urge the international community to act on pledges of support for developing countries to cope with the devastating impacts of climate change.
"They are the most deserving of our support," Foreign Minister Sameh Shoukry told the UN General Assembly this month.
After a tumultuous decade since the 2011 uprising that overthrew then-President Hosni Mubarak, the country is also looking to boost its standing on the world stage.
However, critics, such as the Egyptian human rights campaigner, say the government sees the event as a way of "whitewashing its reputation".
A few hundred less high-profile prisoners have been released in recent months since Mr Sisi unveiled a new pardon committee, in a move that many link to Egypt's hosting of COP.
Amnesty's new report focused on how Egyptian authorities have used a National Human Rights strategy launched a year ago "as a PR tool to deflect attention from its real human rights record".
Meanwhile, HRW researched instances of repression against environmental groups.
Following interviews with academics, scientists and activists, it said that government restrictions amounted to human rights violations and left in doubt Egypt's ability to meet basic climate commitments.
A spokesperson for the Egyptian foreign ministry dismissed the report as "deplorable and counterproductive" saying it contained "inaccuracies", and questioned the use of unnamed sources.
Sameh Shoukry, who will act as president of COP, has said that space will be set aside in Sharm el-Sheikh for protests to take place.
This week, Ambassador Wael Abul-Magd, assisting him, told journalists that civil society environmental groups would be represented at the talks.
"We don't believe in tokenism," he said in a virtual briefing. "We are involving these stakeholders across the board in every step of the way."
However, Egyptian activists told the BBC that many local groups had been unable to register for the conference.
They questioned the independence of those who had been given access in a special process overseen by the government and facilitated by the UN. One called the lack of transparency "a scandal".