Days after Hurricane Ian made landfall in Florida, the stories of survivors are emerging.
In Florida's Lee and Charlotte counties—two of the areas hardest hit by the storm—more than 700 people were rescued by first responders, according to the office of Governor Ron DeSantis.
One survivor, a woman named Kim who spoke with the BBC, said: "It was terrifying, because you're helpless.
"We had no [phone] service to call anyone, but no one would have come anyway," she added.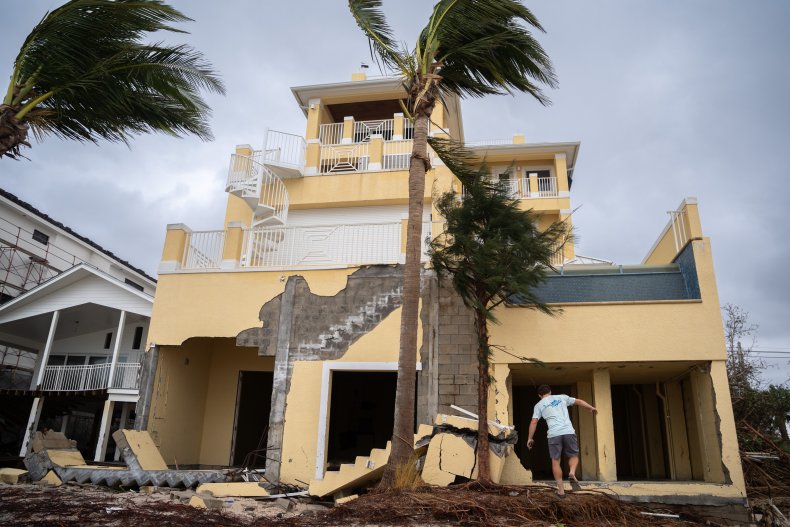 Another woman in Orlando, who wasn't identified, exited her home through a window during the hurricane. She told CBS News: "You have to either swim or drown."
A man in North Fort Meyers, James Burdette, told the Associated Press that he "literally watched my house disappear with everything in it, right before my eyes.
"I watched things start to fly, part of the roof went off, the rest of the roof went off, the walls caved in," he added.
Newsweek reached out to officials in Lee County, Charlotte County and Florida's Division of Emergency Management for comment.
As of Thursday afternoon, DeSantis' office said that 42,000 linemen were responding to more than 2.5 million power outages in the state. According to the website poweroutage.us, there were still nearly 2 million people without power.
The governor's office also said at the time that U.S. Army Reserve teams with more than 800 members were conducting search-and-rescue operations throughout the state.
"Florida National Guard members are conducting incident awareness and assessment missions this morning in Sarasota, DeSoto, Charlotte, Collier and Lee Counties," DeSantis' office wrote. "We expect that throughout the day, the Florida Guard will be engaged in a multitude of missions including search and rescue and route clearance operations."
The city of Fort Meyers suffered significant damage in the storm. Jared Moskowitz, former director of Florida's Division of Emergency Management, said Thursday that most of the city "will need to be completely rebuilt."
On Thursday, AccuWeather founder and CEO Dr. Joel N. Myers said Hurricane Ian could lead to damage totaling $120 billion.
"Ian will go down as one of the most damaging and impactful storms in U.S. history, along with 2017's Hurricanes Harvey, which caused $190 billion in total damage and economic loss, and Irma ($80 billion); Sandy in 2012 ($210 billion); Katrina in 2005, ($320 billion), as adjusted for inflation," AccuWeather wrote in a statement.