By Flora Drury
BBC News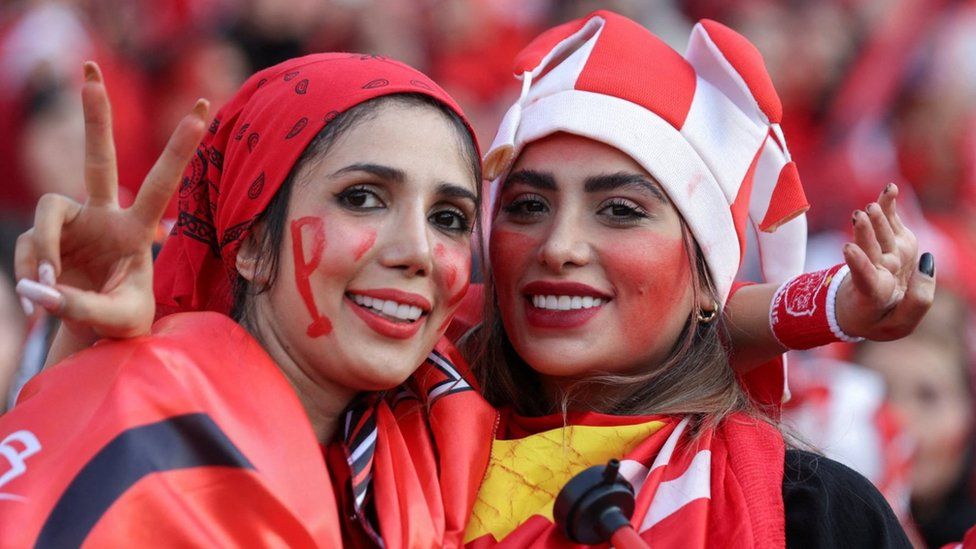 A rights group has called on Fifa to ban Iran from this year's World Cup after blocking women from watching games in their own country.
Open Stadiums questioned why the country was being allowed to compete while "Iranian women remain locked out of our 'Beautiful Game'" by officials.
The call comes weeks after women were allowed to attend a domestic match for the first time since 1979.
However, the rights group was sceptical stadiums would remain open to women.
"Iranian women trust neither the Islamic Republic's authorities nor the Iranian Football Federation that the Azadi stadium will remain open to them after the Fifa World Cup 2022 concludes on December 18," Open Stadiums said in an open letter to Fifa's president, Gianni Infantino.
It also argues that even those who travel to Qatar to watch matches risk falling foul of Iranian authorities, with fears state spies may keep tabs on those who attend.
Prohibiting women from games goes against international football rules, the letter points out, arguing Fifa should "immediately expel Iran from the World Cup 2022 in Qatar" as a result.
There is no official ban on women going to sporting events in Iran, but it is rare as they are often refused entry.
Prior to this, women had effectively been barred from domestic matches where men are playing due to clerical disapproval under the Shia Muslim regime. Women have attended a handful of international matches, including one in March this year, news agency Reuters reports.
The rights group, which campaigns for equal access to sport in Iran, also claimed in the letter that members of the football team going to Qatar later this year had been banned from speaking out over deadly protests currently rocking the country. They were sparked by the death in custody of a young woman, Mahsa Amini, after she was detained morality police.
The letter points out that the detention centre where she died is the same one "where female fans are usually brought to and tortured if we dare to try to attend a football game".
Neither the Iranian football association or Fifa have responded to a request for comment from Reuters.