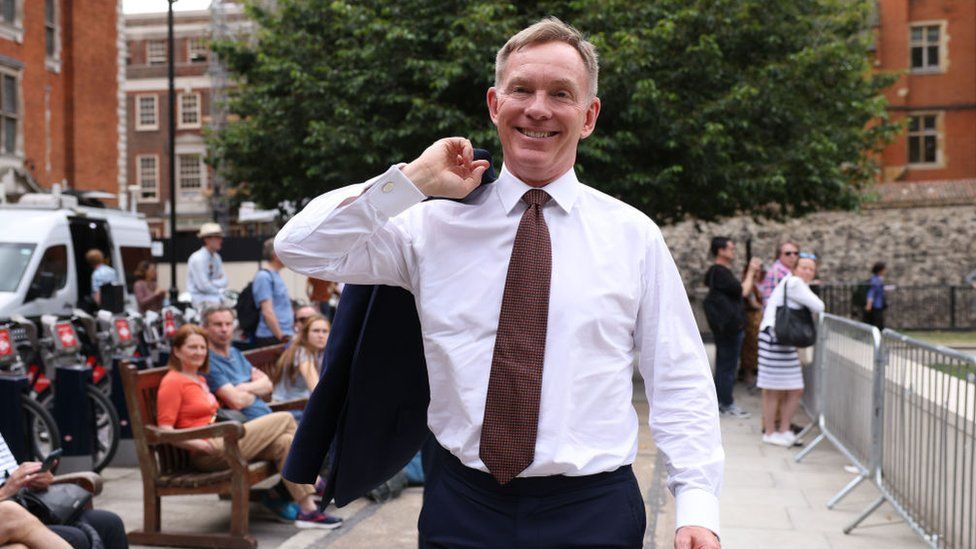 Labour MP Chris Bryant has apologised in court after tweeting an unfounded accusation he had made in the House of Commons in 2018 while under the legal protection of parliamentary privilege.
A statement read out in the High Court in London confirmed his allegations against businessman Christopher Chandler had "been disproved".
The former minister has also paid £1,000 to a Ukraine support fund.
Mr Chandler helps to fund the Legatum Institute, a pro-Brexit think tank.
The court heard that "serious" allegations were made in May 2018 during a Commons debate on the Sanctions and Anti-Money Laundering Bill. Some MPs claimed Mr Chandler was suspected of money laundering and being a Russian spy.
While such debates are protected from libel claims by parliamentary privilege, the Rhondda MP later quoted from his comments in the debate in a letter to Foreign Secretary Liz Truss in March, and posted the letter on Twitter.
Mr Chandler, a billionaire who founded the Dubai-based private investment firm Legatum, brought a defamation claim which has now been settled.
MP 'held accountable' for defamation claim
Adrienne Page QC, for Mr Chandler, said: "It was not Mr Bryant's intention to repeat those allegations, which he accepts have subsequently been disproved.
"Mr Chandler is most grateful to Mr Bryant for his acceptance of this fact."
Ms Page added that her client did not seek legal fees from the MP, and that Mr Bryant had paid £1,000 to the UN's crisis relief fund for Ukraine in lieu of damages.
The businessman's legal team claimed the case was the first time a sitting MP had been "held accountable" for a defamation claim for quoting words they had previously said in Parliament.
Mr Chandler said he was "delighted to be able to put these bizarre and outrageous lies behind us" and "grateful to Mr Bryant for not opposing this long-overdue correction of the public record".
He added: "Parliamentary privilege is a crucial and cherished right in a democracy, but in an age of fake news and social media, MPs must have the ability and duty to amend the official record if they subsequently find out that what they have said is false."
Mr Bryant, who chairs the Commons Committee for Standards and Privileges, had previously apologised in the Commons in May.