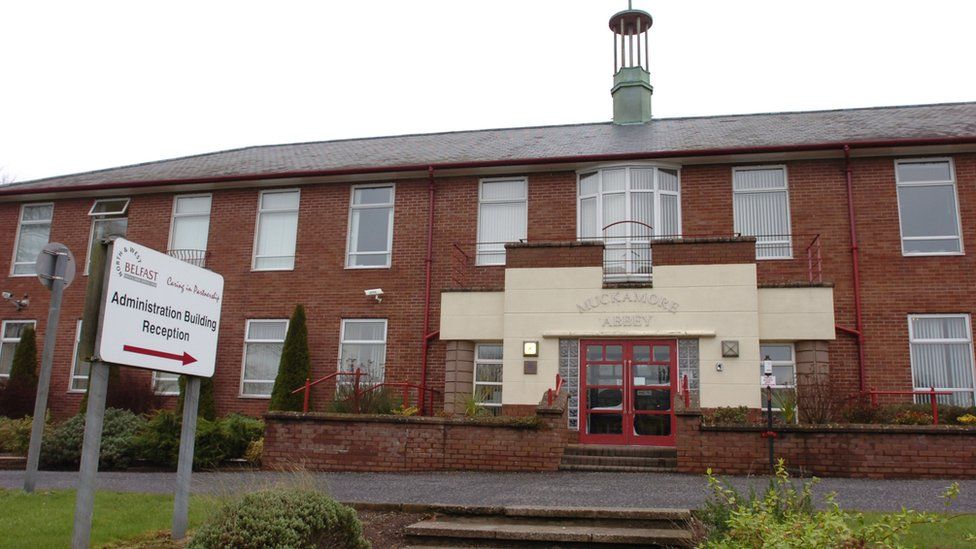 The sister of a Muckamore Abbey Hospital patient has told a public inquiry she believes he was "neglected" during his stay at the facility.
The woman said her brother John suffered from "awful" personal hygiene and lost weight while living in County Antrim hospital between 2004 and 2005.
She is among witnesses who are giving evidence to the inquiry into alleged widespread abuse of Muckamore patients.
Full names have been withheld in order to protect patients' privacy.
Muckamore Abbey Hospital provides inpatient facilities for adults with mental health needs and severe learning difficulties.
Wednesday's hearing was told that John, who is now in his late 30s, began to exhibit challenging behaviour when he was 14 years old.
By the time he reached 18 or 19, there was a significant change in his behaviour and he attacked his mother in her bed.
He was sectioned under the Mental Health Act in 2004 and was brought to Muckamore.
Locked ward
Initially, John's parents and family were not allowed to visit him and were told this was in order to allow him to get "settled in" at the hospital, the inquiry heard.
When the family were allowed to visit, they came to see him once a week.
However, they were never allowed into John's hospital room because he was staying in a locked ward. Their visits took place in a television room away from the ward.
He was moved into an unlocked ward in December 2004 and was discharged from Muckamore in March 2005.
John's sister told the inquiry that he appeared unsettled during their family visits, describing him as "not sociable, pale, thin and very flat".
"His hygiene was awful. He was neglected, we all could see it, but unfortunately John couldn't speak for himself," she said.
The witness said she assumed John was medicated during his time in Muckamore, however, no one at the hospital ever confirmed this to the family.
She said family members would bring him clothes and sweets, but during their visits he was was never dressed in his old own clothes.
She recalled that their mother then began to label all the clothes they brought to Muckamore for John.
The witness added that John constantly told his family that he wanted to go home and she said her parents fought very hard to get him discharged.
Another of John's sisters also gave evidence and she described the hospital has being "a hell hole with bars on the windows. No colour on the walls and nothing to stimulate John".
He was discharged from the hospital with no care package in place, but after John left the hospital his sister said he was "back to his usual self and dancing, singing and very talkative".
"John is still terrified of Muckamore. He still shudders when the family mentions Muckamore."
'We will never truly know what went on'
Summing up the family's experiences, the witness said: "What we learned is that if there is something wrong, we speak up.
"We didn't then and that is something we will have to reconcile with as a family."
She added: "John's experiences were small, but it all adds to a bigger picture. There is a culture built up in these facilities to say this is allowed. It shouldn't be allowed.
"We will never truly know what went on, but this needs to change and change quickly."
The Muckamore Inquiry was set up after the emergence of internal CCTV footage in 2017 which allegedly shows vulnerable patients being physically and mentally abused by hospital staff.
The allegations are also being investigated by police and several former workers have been arrested and questioned in recent years. A number of people are facing charges.