Nelly and Lil Wayne may have been on the forefront of 2000s-era hip-hop, but the rap legends are apparently just like everyone else when it comes to the latest tech.
On Friday, Nelly's name was trending on Twitter after social media users poked fun at his recent attempt at an Instagram Live chat with Lil Wayne. A video clip of the conversation opens with Lil Wayne asking Nelly why he could see people's comments appear on the bottom of the screen.
Nelly then affirmed that he could see the comments, too, saying that the viewers appeared to be "talking to us."
"Somebody said, 'Y'all good?'" Nelly continued.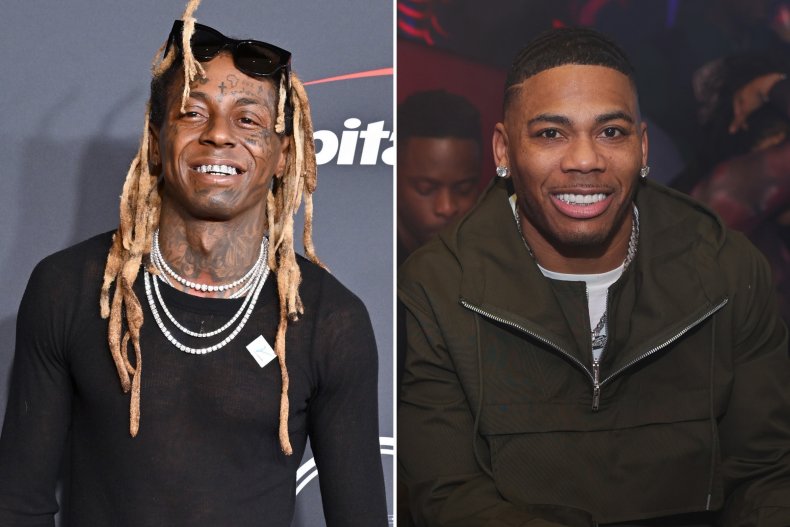 "Can I—can I smoke on here?" Lil Wayne then asked, furrowing his brow.
"Yeah, I hope so," Nelly replied. "I am."
Lil Wayne further inquired why Nelly's face appeared to be "sparkling," referencing a filter that had somehow been applied. Nelly jokingly asked what Lil Wayne had been smoking—eliciting laughs—before trying to figure something out on his end of the screen.
Twitter account, My Mixtapez, which covers hip-hop news, posted about the heartwarming exchange in a Friday morning tweet.
"Lil Wayne & Nelly just 2 legends learning to use IG live‼️" they wrote, adding a laughing emoji.
Another Twitter user joked that the two rappers may have been having a senior moment.
"They old ass confused as hell," user @Flghtchiartist tweeted on Thursday, which has since gone viral.
"[T]he fact that Nelly & Lil Wayne dont know how to use IG live is hilarious," user @__RiseAbove_ tweeted.
Twitter user @becaponi said that watching the exchange felt pretty surreal.
"Nelly and Lil Wayne are live & rolling blunts on IG right now," she tweeted. "This is like a 2000s fever dream."
Nelly has been in the news this week for other reasons, too.
On Monday, Complex published a video interview with the 47-year-old rapper, during which he claimed credit for a boost in Nike shoe sales. Nelly, who had a smash hit with 2002's "Air Force Ones," claimed that the single may have also led to other hip-hop artists landing sneaker deals.
"Everybody that got Nike shoe deals and all of that need to be thanking us right now," he told Complex. "We opened Nike's eyes to a lot of that. At that time, they weren't doing it."
Newsweek has reached out to Nelly and a representative for Lil Wayne for comment.