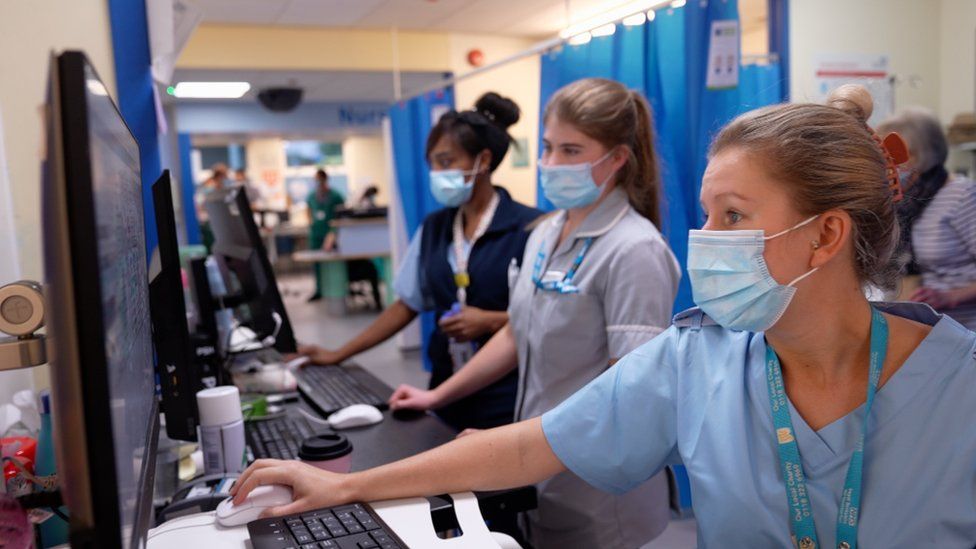 By Nick Triggle and Hugh Pym
BBC News
Busy, noisy, highly stressful - and sometimes violent. This is the reality of A&E as the NHS gears up for what will be an incredibly difficult winter.
That much is clear from the experience of staff and patients at Royal Berkshire Hospital's emergency department.
Like all units, it is struggling to see patients quickly - more than a third of patients wait more than four hours.
The stress and frustration means tempers can easily boil over.
Receptionist Tahj Chrichlow says it can get so busy patients end up "packed like sardines".
"Sometimes people can be not as nice to us as we like," he adds, explaining how earlier this week the window of the reception office had been smashed by one angry person.
"Luckily we have got a very nice security team who can come down and help us - they're pretty much on our speed dial, just in case."
Staff nurse Harriet Nicholls ended up getting slapped and bitten on the arm as she and a colleague tried to put a drip in a patient.
The individual had dementia - so it was not necessarily related to the delays seeing patients - but such episodes were not uncommon in the department.
"We're overloaded and there are not enough staff," she says.
The latest figures show the emergency care system has never seen such huge pressures - certainly since modern recording-keeping began 20 years ago.
The proportion of patients waiting more than four hours to be seen has reached its highest level ever with more than 30% of patients facing delays.
Ambulances are also facing record delays.
And for those patients who cannot be treated on the spot and need a stay in hospital, there can then be long waits for a bed.
One of those was Anne Whitfield-Ray who was taken to her local hospital last month after she fell at home and broke her hip.
She spent 15 hours on a trolley until a bed could be found for her.
"It was absolute chaos - like something out of a third world country," said the 77-year-old from Worcestershire.
"Patients were being squeezed in everywhere they could. It was horrific."
But she said that despite her experience she cannot fault the staff: "They are doing the best they can."
Hayley, 34, from Ashford in Surrey, had an even longer wait with her six-month-old.
She was told to go straight to A&E by her GP after her baby became unwell.
"It was totally rammed. We spent 33 hours in A&E waiting for a bed on the wards.
"The staff tried their best to help us. I can't complain about the care we've had as it's been very good. But the NHS is totally overwhelmed."
'Fundamental challenge'
The Royal College of Emergency Medicine is warning delays like these are putting patients at risk.
Vice president Dr Ian Higginson says hospitals are "full to bursting".
"When our hospitals are full, we can't get patients out of our emergency departments.
"That means emergency departments become overcrowded and we see patients waiting for long periods on uncomfortable trollies in corridors or other rubbish places."
Dr Higginson says his colleagues are "very worried" and unable to deliver the care they would like to give to patients.
"It's just not possible," he adds.
Dr Vin Diwakar, of NHS England, said staff were working "round-the-clock" to try to see and treat patients as quickly as they can.
He said the problems in A&E were caused by a lack of beds, with 19 out of every 20 currently occupied.
He said the "fundamental challenge" was the difficulty hospitals were facing discharging patients who were medically fit to leave, but could not be released because of a lack of care in the community.
Every day more than half of patients ready to be discharged cannot be discharged.
Dr Diwakar said steps were being taken, including investment in community teams to stop people ending up in hospital,
A network of regional "war rooms" has also been created, he added, which monitor the pressures on local hospitals in real time, so they can try to manage demand by diverting ambulances away from the most under-pressure hospitals.
Are you currently waiting in A&E? If you feel well enough to do so, tell us what it's like by emailing haveyoursay@bbc.co.uk.
Please include a contact number if you are willing to speak to a BBC journalist. You can also get in touch in the following ways:
If you are reading this page and can't see the form you will need to visit the mobile version of the BBC website to submit your question or comment or you can email us at HaveYourSay@bbc.co.uk. Please include your name, age and location with any submission.