Grammy-award nominated musician K.Flay is opening up to fans about her sudden brush with hearing loss.
Critics and fans have long praised K.Flay's innovative songwriting and gifted lyricism. But on Friday, the artist posted photos on Instagram as she underwent treatment for "[her] sudden sensorineural hearing loss." Even though she's more than halfway done with treatment, she said there hasn't been improvement to the "single sided deafness & tinnitus in [her] right ear."
K.Flay first revealed in a September 8 Instagram post that she had recently woken up without any hearing in that ear. She also said she was grappling with "severe vertigo."
"[I]'ve been diagnosed with SSNHL (sudden sensorineural hearing loss) and labyrinthitis, which is basically when a virus gets inside your ear canal and attacks the hair cells," she wrote at the time. "[D]octors don't really know how or why it happens—it's just one of those freak things."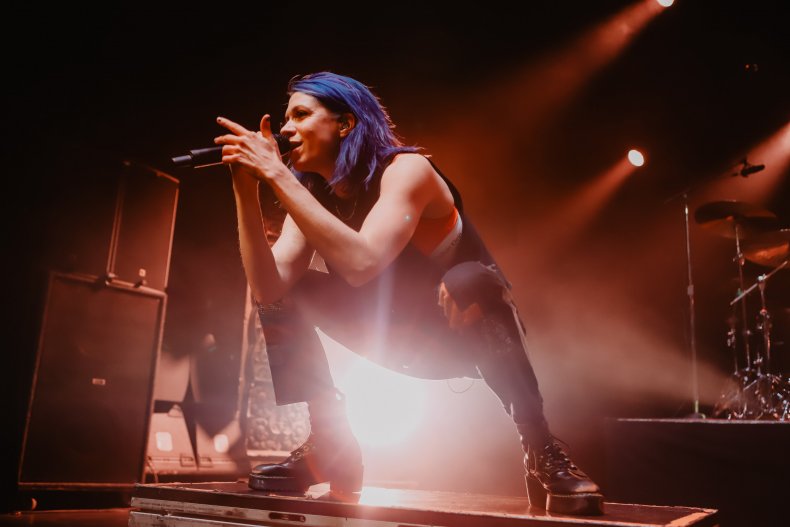 In this Friday's post, K.Flay updated fans on her health, saying she's been "working hard on accepting and adjusting to this new sensory experience of the world."
Some days are better than others, K.Flay wrote. Sometimes, she might wake up and "cry or scream a little.
"[A]nd other mornings i listen to harry potter in my left ear and make coffee and feel very calm," K.Flay continued. "i think the most unexpected challenge has been the impact of the hearing loss on my balance and orientation, which makes basic things (like walking or driving) really difficult. i'm in physical therapy to work on that, and i'm getting a little better each day. i can now do a jumping jack :))))) my goal is to be moving pretty freely by the end of october."
K.Flay's 2014 debut album Life as a Dog peaked at No. 2 on Billboard's Heatseekers Albums chart. She was nominated for two Grammys in 2018: "Best Rock Song" for her single "Blood in the Cut" and "Best Engineered Album, Non-Classical" for her LP Every Where Is Some Where.
The singer's experience somewhat mirrors the plotline of the 2020 film The Sound of Metal. Starring Riz Ahmed, it's about a metal drummer whose world is rocked after he starts to lose his hearing.
K.Flay's latest post received a wave of support from fans and other musicians. Grammy Award-winning rapper Macklemore responded on Instagram with the message "Sending love," in addition to a red heart emoji.
Even though it's undoubtedly been hard for K.Flay to adjust, she's still trying to stay positive. Many others also deal with illness and changes, she wrote in her Friday post, and it's important to always "remember that you're not alone."
"[A]s the legend pema chödrön says, 'we can let the circumstances of our lives harden us so that we become increasingly resentful and afraid, or we can let them soften us and make us kinder and more open to what scares us. we always have this choice,'" K.Flay continued. "LET'S BE SOFT AND KIND TOGETHER OK???? ok. tgif baby."
Newsweek has reached out to K.Flay for comment.