After revealing the latest track title for her upcoming 10th studio album, Taylor Swift impacted her fans' vocabulary as Google searches for the definition of the word "vigilante" soared on Thursday night.
The "All Too Well" singer has developed a new, off-brand method of revealing the songs that will be on her newest album, Midnights, which will be released on October 21. Through a series of staged TikToks that she has dubbed "Midnights Mayhem With Me," Swift has rolled the golden lottery-ball cage twice now, pulling out numbered balls that she has used to reveal the titles of the songs on her album.
In a previous video, Swift revealed that the 13th track on Midnights is called "Mastermind," and on Thursday, she pulled ball number 8, telling fans that the eighth track on her upcoming album is called "Vigilante S**t."
After the video was posted, there was a spike in Google searches for the definition of vigilante.
Vigilante, according to the Merriam-Webster Dictionary, means "a member of a volunteer committee organized to suppress and punish crime summarily" when they believe law enforcement is otherwise inadequate.
Swift has always been a lyrical swordsman of sorts, so her latest reveal has left fans wondering what kind of song they'll be getting with "Vigilante S**t."
"What do you think Vigilante S**t sounds like? 🤔" asked one Taylor Swift fan account known as Taylor Nation on Twitter.
"Please god help me what is she going to be talking about on a track called vigilante s**t I am scared for my life," user @folkloreamy said.
"Vigilante S**t is the most unexpected track title I've ever heard in my 15 years of being a Swiftie," tweeted user @cardigan_swift.
"i can't even imagine what songs called mastermind and vigilante s*** will be about but even more than that i'm SO intrigued by how they will tie into the whole sleepless nights concept of the album," @seeitinmymind tweeted.
"'Mastermind' 'vigilante s**t' what the f*** is taylor swift doing on her sleeless [sic] nights? Fighting crime in gotham city?" Twitter user @meanlore asked.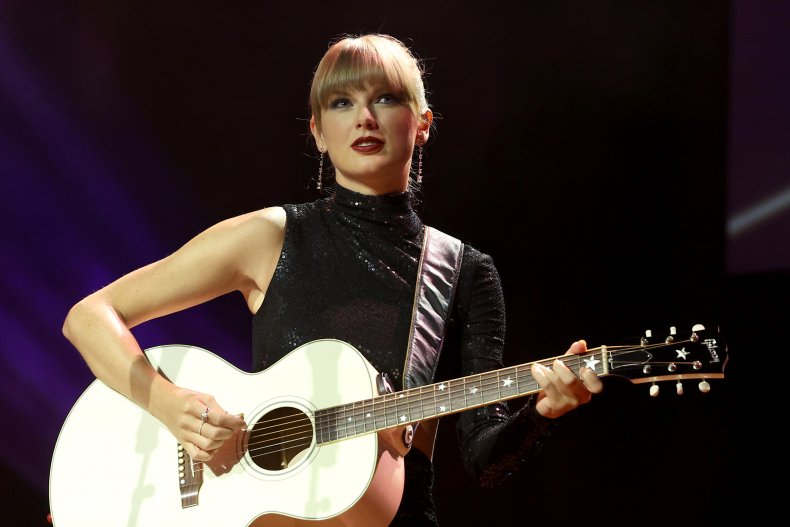 Other fans on Thursday night were not so surprised by the track title as they were taken by Swift's cat, Meredith, who made a guest appearance on the TikTok.
The star has given a significant amount of clues to the Midnights album after shockingly announcing the album at the end of her acceptance speech at the MTV Video Music Awards (VMAs) last month, and has additionally teased fans with the vinyl album artwork.
"We lie awake in love and fear, in turmoil and in tears. We stare at walls and drink until they speak back," Swift wrote in an Instagram post announcing the album. "We twist in our self-made cages and pray that we aren't—right this minute—about to make some fateful life-altering mistake. This is a collection of music written in the middle of the night, a journey through terrors and sweet dreams. The floors we pace and the demons we face."
Swift added: "For all of us who have tossed and turned and decided to keep the lanterns lit and go searching—hoping that just maybe, when the clock strikes twelve...we'll meet ourselves."
Newsweek reached out to a representative for Swift for additional comment.