By Paul Kirby
BBC News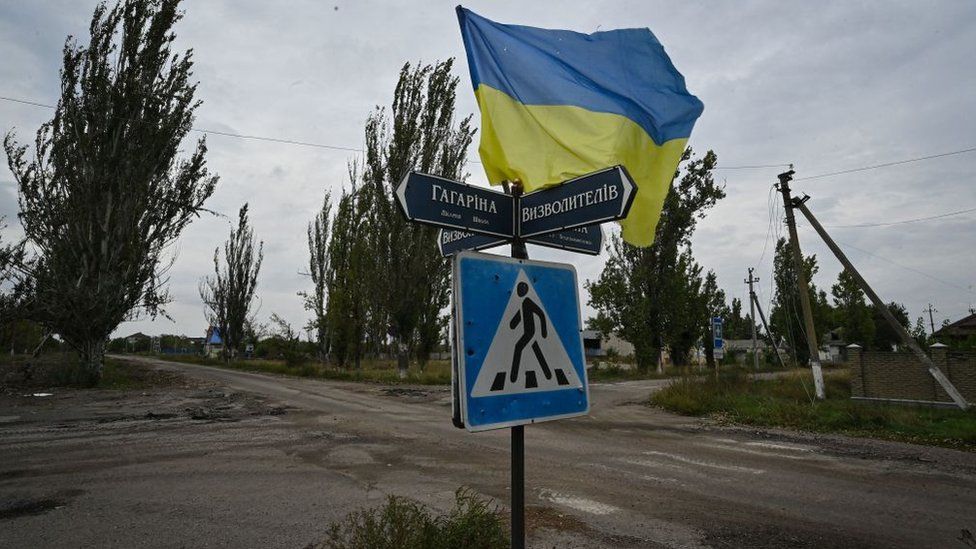 How will Russia annex four regions that it has occupied, but only partially, when they are in the middle of a war zone?
Vladimir Putin is signing the annexation of the occupied regions on Friday - after so-called referendums condemned by the international community as a sham and at times involving armed soldiers going from door to door to gather votes.
Why now?
Russia's president is on the back foot. His seven-month war is losing impetus while Ukraine's dramatic counter-offensive is derailing his original claim to the two eastern regions of Luhansk and Donetsk.
By annexing those regions as well as Zaporizhzhia and Kherson in the south he will be able to send newly mobilised troops to the front and threaten the West not to allow its weaponry to target what he has decided should be Russian territory.
UN Secretary General António Guterres has condemned it is as a dangerous escalation: "Any decision to proceed with the annexation of Donetsk, Luhansk, Kherson and Zaporizhzhia regions of Ukraine would have no legal value and deserves to be condemned. It cannot be reconciled with the international legal framework; it stands against everything the international community is meant to stand for; it flouts the purposes and principles of the United Nations.
Just like Crimea?
It looks like a carbon copy of what President Putin did in March 2014, seizing the Crimea region from Ukraine, calling a referendum widely condemned by the international community and then annexing it anyway, through exactly the same constitutional process culminating in a vote in Russia's supportive parliament.
Except that it isn't. Crimea was seized with little bloodshed and came under total Russian control.
To varying degrees, all four of the regions now being annexed are still partially in Ukrainian hands. Together they make up 15% of Ukrainian sovereign territory.
The two eastern regions have been partly held by Russian-backed separatists since 2014, but after seven months of war only 60% of Donetsk can be claimed by Russia, and Luhansk is at the centre of a major Ukrainian offensive. Russian forces could be within hours of losing the strategically significant town of Lyman.
Zaporizhzhia's regional capital is very firmly Ukrainian-run, although in reach of Russian missiles, and Ukrainian forces are only a few miles from the city of Kherson.
How can you annex four regions you don't even control? Whatever the answer, Russia's leader was clearly in a hurry to do so, announcing the self-styled referendums with barely any notice.
Kremlin spokesman Dmitry Peskov said on Friday that any strike on annexed territory would be regarded as an act of aggression.
What will change?
That is not yet clear. Even Mr Peskov was unable to define where Russia would draw its new borders in occupied southern Ukraine. However, he said Russia would treat all of the Donetsk region as part of Russia. As for those parts not under occupation, he said those would have to be liberated.
"It provides a diversion for the Russian people and the Russian state," says Paul Stronski of the Carnegie Endowment for International Peace, who believes little will change in practice.
Before the February invasion, Russia recognised the entirety of the two eastern regions as independent "people's republics" and now Moscow will define them as Russian territory. Vladimir Putin has also now recognised the two southern regions as independent, ahead of his ceremony in the ornate St George Hall in the Grand Kremlin Palace.
After he signs away their Ukrainian sovereignty, he will submit those treaties to the two houses of Russia's parliament and address it next week, ahead of his 70th birthday next Friday. It can then be enshrined in Russia's constitution.
At this point Russia will enter into a phase of existence, says exiled political commentator Ekaterina Shulman, becoming a "state with a delegitimised border". It will include fragments that are not just unrecognised by any other state or international organisation but also have no centralised administration, she argues.
How will Ukraine respond?
President Volodymyr Zelensky has been meeting his defence and security chiefs to decide on a response, but he has already made clear that annexation will not bring the Kremlin what it hopes for.
"Ukraine cannot and will not put up with any attempts by Russia to seize any part of our land."
How dangerous is this moment?
Nobody really knows what is now in the Kremlin's mindset, but clearly it wants the West and Ukraine to now view attacks on occupied territory as attacks on Russia itself.
President Putin has already threatened to use every means at his disposal to protect Russian territory, including nuclear weapons. "This is not a bluff," he said. And his Defence Minister says Russia is fighting the West even more than Ukraine.
Paul Stronski believes Russia's "destabilising rhetoric" is aimed at deterring the West, even though the West appears resolved to push back on it.
Ukraine's leader has dismissed the nuclear threat as a "constant narrative of Russian officials and propagandists".
On Friday, Kremlin spokesman Dmitry Peskov said recent commentary on nuclear escalation was irresponsible: "We urge everyone to conduct themselves responsibly."