The moment a mother-in-law was pranked by her sons while on vacation has left the internet in stitches.
In the viral video shared by @mrsbillett1986, the woman can be seen "passed out" on a deckchair that is lifted by three men and placed underneath a tipping water feature that left her soaked.
Over 315,000 people have watched the woman's dramatic reaction to getting drenched which left her rolling on the floor. The video has received over 12,800 likes since being posted on September 29. You can watch it here.
A study has revealed that the majority of 807 participants have a positive relationship with their mother-in-law.
The survey, conducted by The Mother-in-Law Project, revealed more than half of daughters-in-law (51 percent) say they are satisfied or very satisfied with their relationship with their mothers-in-law.
Just 5 percent of mothers-in-law stated they were dissatisfied or very dissatisfied. Whilst 20 percent of daughters-in-law reported they are dissatisfied or very dissatisfied with their relationship.
According to the study, 38 percent of daughters-in-law say they spend more time with their side of the family, while 35 percent say they spend more time with their in-laws.
Twenty-seven percent say they spend equal amounts of time with each side of the family.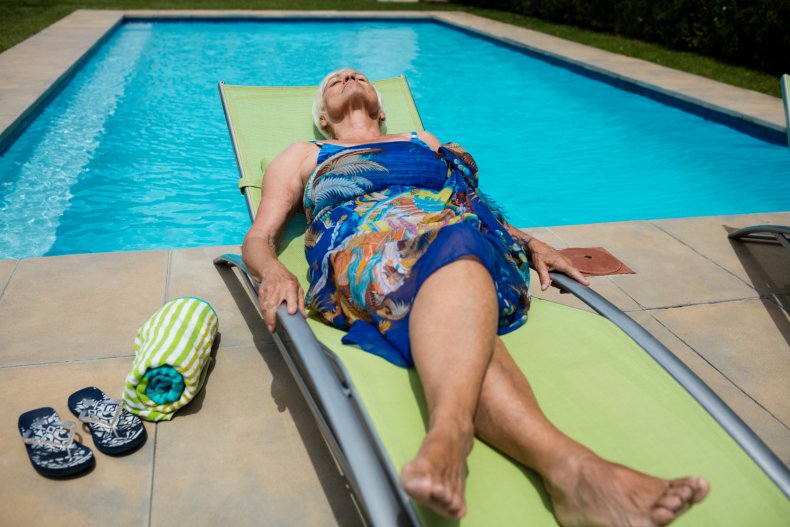 It is clear the original poster is on vacation with her partner's family as the caption saying, "sorry not sorry" is followed by a hashtag stating: "her boys love her really."
In response to a comment, the original poster said the prank was carried out by the woman's sons while they were on vacation in Mallorca, Spain, and she also stated they were on an all-inclusive holiday, meaning there was unlimited alcohol.
One user asked: "How did she not wake whilst being carried?" To which the daughter-in-law explained: "She drank too much and passed out."
Some users have praised the trio of men and said it was "perfectly executed."
While others have sympathized with the "poor woman," another joked: "Suddenly there are less people in the will."
A few TikTokers have been left questioning the authenticity of the video, with one describing it as an "Oscar winning performance."
Another wrote: "Very well acted."
It seems the internet can't get enough of pranksters, previously Newsweek shared the hilarious moment a stripper was hired for a grandma's 90th birthday. Along with the heartwarming moment a son dressed up as a waiter to surprise his parents who he hadn't seen for three years.
But not all pranks have a happy ending, some backfire and end up with costly consequences for the mischievous trickster.